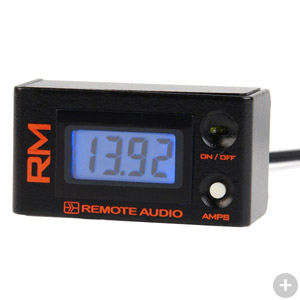 Item #: RMv2
RM User Guide (105K PDF)
New features for the RM
Integral cable. The cable is now wired directly to the RM, making it even more compact.
Low Battery warning.
Simplified switching.
Lower cost. The RM box now comes with an attached cable, but at the same price!
The RM is a compact Volt meter, Amp meter, and ON/OFF controller that works with the BDS, MEONv2, MEON LiFe, Hot Strip and Shunt Box. The RM can be conveniently mounted so that the equipment operator can see the meter (volts and amps) and remotely turn the attached equipment on and off.
The RM utilizes a six pin Lemo-style circular connector of the push-pull locking type, and is keyed so it can only be inserted one way. The RM is connected to the BDS, MEONv2, Hot Strip, and Shunt Box with a 24″ integrally mounted cable. Custom cable lengths are available as a special order item by request.
To turn on the meter simply plug the meter into your power source and flip the RM's toggle switch to the "ON" position. The voltage of the power source will be displayed on the RM. Pressing and holding the AMPS button of the RM will display current draw in Amps.
The RM is small enough (1″x1.3″x2.3″) to mount almost anywhere and comes with Velcro strips for use in hard surface mounting.